BA Underground Loader Extension Carriage
Underground Loader Extension Carriage
Take your underground hard rock mining to the next level with the BA Extension Carriages.
Product Benefits
Blasting problems eliminated
Oversize broken in location
Continuous operation without pausing for additional blasting
Draw point availability increased
Mucking resumes quickly
No handling/rehandling of oversize
Productivity increased
Utilises existing equipment, reducing capital investment
Safety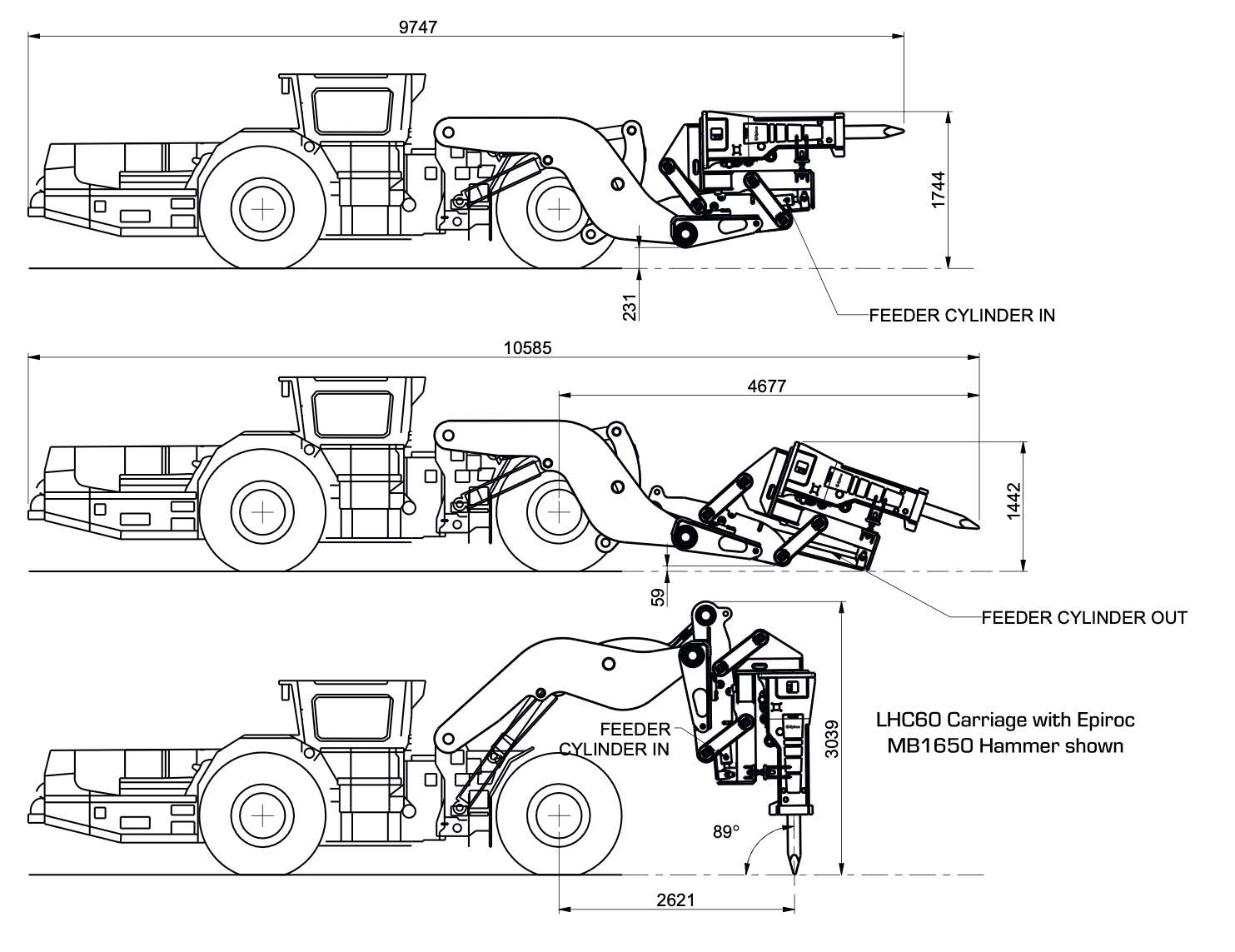 Detailed Product Information
| TECHNICAL SPECIFICATIONS | |
| --- | --- |
| Hammers | Epiroc MB1000,MB1200,MB1500,MB1650 and hammers with weight range of 1000-1700kg |
| Carrier Types | LH307, ST315 and other equivalent LHDs |
| Frame Structures | Welded steel plate structures |
| Feed Movement | 600 mm |
| Pins | Heat treated multi alloy steel pins |
| Bushings | Special bronze bushings with greasing points |
| Cylinder | Double acting feed cylinder with self-aligning bearings |
| Max. Pressure | 25 MPa (Hydraulic Pressure) |
| Rod-Stroke | 56-650 (mm) |
| Weight | 1450kg (without hammer) |
| Control valve | 1 proportional section for feed movement, 1 on/off section for the hammer |
Happy Customer Testimonials
"The customer service including following up on supplied quotes is greatly appreciated as it prompts us to follow up with our customers."
ANDREW WEINERT
Product Specialist - Hastings Deering
"Great bunch of guys to deal with.. always willing to go that extra mile!
100% I would recommend BAEG to other businesses."
KEVIN CATHART
L & D Contracting
"Recently, BA gave us advice, sourced and supplied and even hand delivered parts for a rockbreaker boom system breakdown onsite in Boddington. Excellent service and have great availability when needed to be contacted."
RYAN MARWICK
Crusher Maintenance Supervisor - Newmont Mining
"BA Equipment has played a fundamental part in responding to our needs and keeping us aware of the advancements in machinery for our industry."
RICHARD TODD
Demex
Attachment Experts Since 1987. Get In Touch!