EC Hydraulic Breaker – Med/Lge
EC Medium/Large Hydraulic Breaker
The Epiroc/Atlas Copco EC Medium/Large Range boasts class-leading technology, reliability, usability and performance to improve your day-to-day construction tasks.
Offering a good price performance ratio, our new EC breakers are specifically designed to meet these needs. They not only offer the reliability that you expect of an Atlas Copco breaker, but also many of the wellknown features and benefits.
EC breakers are durable workhorses that will just go on working. They will give you good results and are an excellent choice for a wide range of day-to-day breaking tasks. Use EC breakers for construction, landscaping and renovation and other jobs.
Advanced control technology
The integrated control valve optimizes efficiency; the EnergyRecovery system increases operating efficiency and lowers vibrations.
Percussion chamber ventilation
The built-in check valve reduces dust intake into the tool guiding area and the percussion chamber.
StrokeControl valve
The combined stroke length and start-up mode switching valve enables the operator to adjust the breaker operation mode to the application for optimum performance.
Double tool retainer bars
Two oval shaped locking bars for optimum tool guidance and higher durability.
EC Medium/Large Hydraulic Breaker Range Brochure
Click here to download the latest brochure.
EC 90 T
EC 100 T
EC 120 T
EC 135 T
CARRIER WEIGHT CLASS*
t
9-15
12-19
15-24
17-28
SERVICE WEIGHT**
kg
625
800
1,200
1,500
OIL FLOW
l/min
80-110
100-120
120-140
140-160
OPERATING PRESSURE
bar
130-150
150-170
150-170
150-170
MAX. HYDRAULIC INPUT
kW
28
34
40
45
IMPACT RATE
(AutoStop Mode)
bpm
-
650-850
550-720
520-680
IMPACT RATE
(AutoStart Mode)
bpm
600-950
-
-
-
TOOL DIAMETER
mm
90
100
120
135
SOUND POWER LEVEL GAUARANTEED***
dB(A)
TBA
118
121
122
EC 140 T
EC 150 T
EC 155 T
EC 165 T
EC 180 T
CARRIER WEIGHT CLASS*
t
20-33
25-40
30-45
35-55
45-70
SERVICE WEIGHT**
kg
1,800
2,200
2,600
3,000
4,200
OIL FLOW
l/min
130-180
150-200
180-220
220-270
250-320
OPERATING PRESSURE
bar
150-170
150-170
160-180
160-180
160-180
MAX. HYDRAULIC INPUT
kW
51
57
66
81
96
IMPACT RATE
(AutoStop Mode)
bpm
380-650
380-620
380-590
380-580
380-570
IMPACT RATE (AutoStart Mode)
bpm
400-800
450-800
530-800
540-800
550-800
TOOL DIAMETER
mm
140
150
155
165
180
SOUND POWER LEVEL GAUARANTEED***
dB(A)
120
120
122
123
-
* Weights apply to standard carriers only. Any variances must be agreed with Atlas Copco and/or the carrier manufacturer prior to attachment.
** Breaker and breaker box with standard adapter plus working tool.
*** Important: EN ISO 3744 in accordance with directive 2000/14/EC. Full details of measurement are available in the Safety and Operating instruction of the product. It can be found on www.acprintshop.com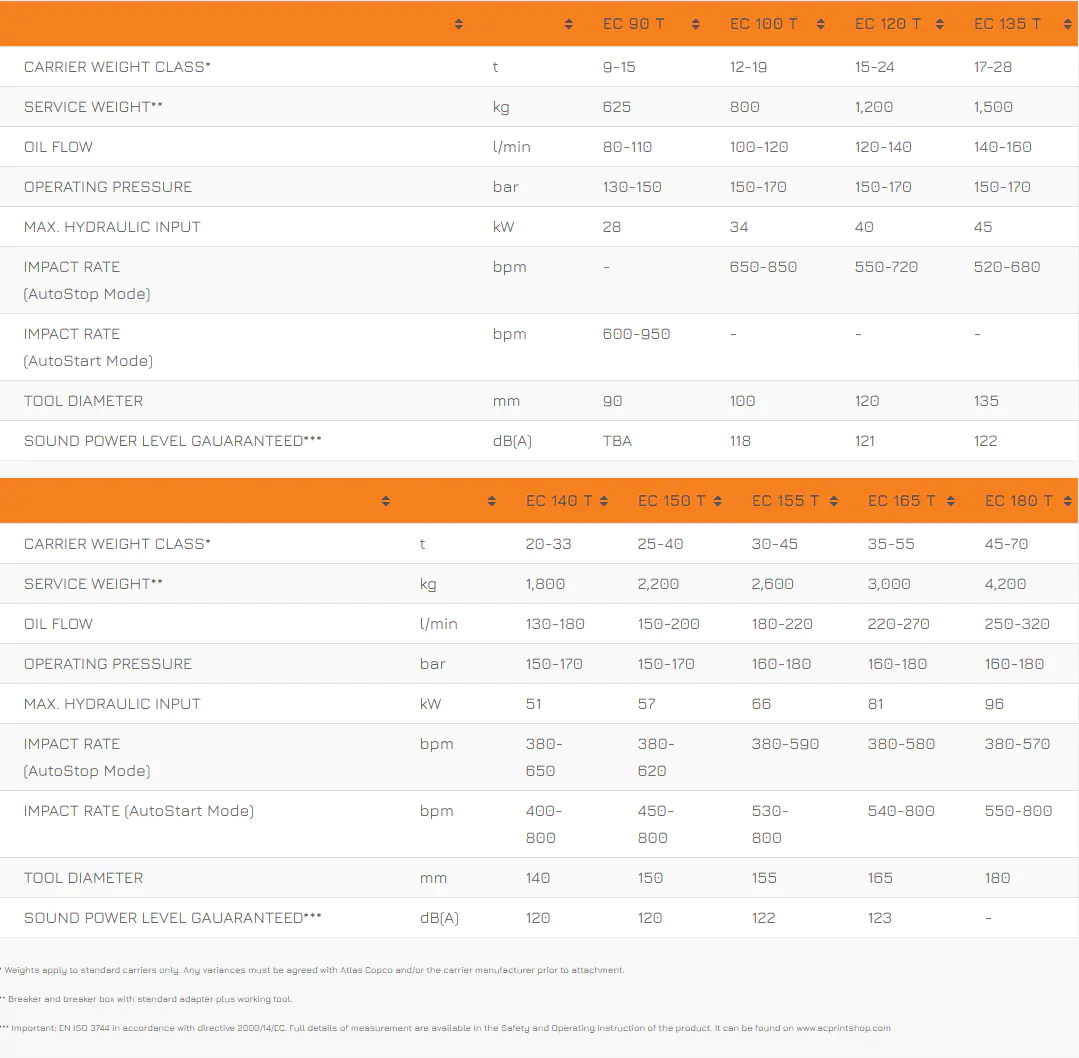 Happy Customer Testimonials
"The customer service including following up on supplied quotes is greatly appreciated as it prompts us to follow up with our customers."
ANDREW WEINERT
Product Specialist - Hastings Deering
"Great bunch of guys to deal with.. always willing to go that extra mile!
100% I would recommend BAEG to other businesses."
KEVIN CATHART
L & D Contracting
"Recently, BA gave us advice, sourced and supplied and even hand delivered parts for a rockbreaker boom system breakdown onsite in Boddington. Excellent service and have great availability when needed to be contacted."
RYAN MARWICK
Crusher Maintenance Supervisor - Newmont Mining
"BA Equipment has played a fundamental part in responding to our needs and keeping us aware of the advancements in machinery for our industry."
RICHARD TODD
Demex
"I would recommend BA Equipment. The product and the product support has been nothing but excellent."
JIM DUPUIS
EMC - Managing Director
Attachment Experts Since 1987. Get In Touch!